The case for the fashion phone – why we don't all need iPhones
In a comeback to our piece on the death of the girl phone, Lauren Bravo from ShinyStyle casts a critical eye over the smartphone market and explains why there's still a niche for the fashion phone and why an iPhone isn't on her shopping list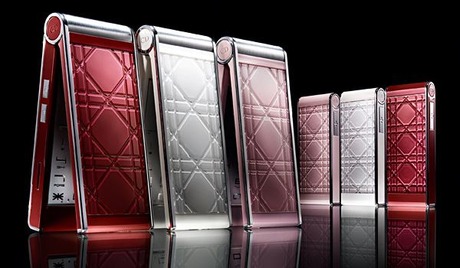 On finding out I was writing this piece, my (male) flatmate launched into an attack on girl phones. "The other day, I saw one advertised purely on merit of it having a QUILTED BACK," he said, incredulous. "Pah, ridiculous," I said. But I thought, "Mmm, Chanel." And there, folks, we have the purpose of fashion phones – men don't understand them, and girls want to stroke them.
Fashion and technology have a notoriously erratic relationship. Like the Carrie and Big of consumer trends, they're on again/off again at a headier pace than most can be bothered to keep up with. Yet girl phones (I won't mention specific models but you know what I am talking about) appeal to us in the same kitschy-cool way as chandelier earrings and lurid nail art.
Really, it all comes down to personal style. There is an impeccably groomed contingent of the female population for whom an iPhone might blend into a futuristic wardrobe of Hussein Chalayan. But for the rest of us, those who relish the creative, the colourful, the playful and the downright experimental of the fashion world, buying an iPhone seems like surrendering to the enemy. Think about any seriously arty people you know – don't they all have a tinny phone, held together with duct tape and covered in splotches of nail varnish, which half the time they don't turn on? Yes, it's merely a different sort of pretension, but it's also a darn sight cheaper.
Not being a seriously arty person, or even a very good impostor, I have decided: I do need a smartphone. After a year of defiantly touting round a £20 Nokia (the telephonic equivalent of a Sainsbury's Basics turnip), I am admitting defeat and joining the ranks of the contactably mobile. But I know I will plump for a lesser-known, less expensive and less ubiquitous model than Apple's. The iPhone may push all the right buttons technologically (or touch all the right bits of the screen), but from a fashion perspective its novelty has worn off.
Firstly, there is the male-centric element of competition. It seems that iPhones have replaced sports cars as the compensation of choice for the poorly endowed man. We don't need that level of pub table one-upmanship; we already have shoes. There's also their comparative bulk, which is an obstacle if, like me, you're in the midst of new-season bag-downsizing.
Then there are the apps. Internet? Good. Email? Good. Facebook, Twitter, eBay? Good. Book a restaurant table/feed a virtual goldfish/scan a barcode/pretend to be a zippo lighter? Not so much. Aren't we just back where we were with Facebook apps a year ago? I didn't want to join your zombie war then, I STILL DON'T WANT TO NOW.
So no, we don't all need an iPhone. Some of us just need to check our emails, some of us just need a little individuality, and some of us need something a little more glitzy to justify spending our money on.
Lauren's blog