Interview with Britain's top Augmented Reality Specialist: Howard Ogden talks the Beatles app and the future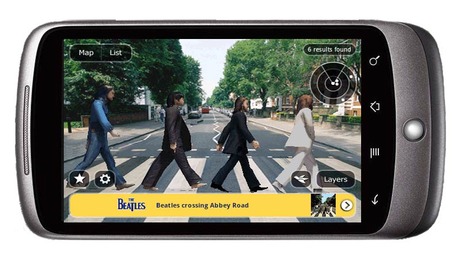 Developer and entrepreneur Howard Ogden is one of Britain's leaders in the field of Augmented Reality. Through his business augmentreality.co.uk Howard develops Augmented Reality apps for phones on a platform called Layar – available on Google Android phones and on the iPhone 3GS (soon). He is the man behind the Augmented Reality Beatles tour. We talked to him.
Layar chose him as one of 30 developers in the world who got to try out Layar 3.0 before its launch. He was one of five who made it to the Layar showcase by Dec 5 when the new version launched.
He mentions the 3D modelling now available in version 3 of Layar, how you can get your picture taken with the Beatles on your mobile phone, that the music industry and car makers are interested in augmented reality, and why Layar doesn't currently work on iPhone.
SS: Tell us about Layar.
H:Our applications are apps within an app – using Layar as a platform, which is a new concept really. They've spent a lot of time developing their platform and then opened up the API to allow third-party developers to create apps. It's free to apply for a key to make layers and you can make as many layers as you like as well – no developer charge.
SS: So is it hard to build a Layar app?
H: You'd have to be a programmer, though there are a couple of online services out there which let the user upload points of interest. It's not relevant to every situation, though I've been doing several corporate projects including a layer for the Yellow Pages directory in Czech Republic, Slovakia and Poland.
In the layer the user is presented with a screen with a script box and they can search for a residential or business listing or or browse by the map. There are 4.5 million points of interest in the three apps.
SS: That's a lot. If the basic principle of Layar is putting points of interest on a map and letting them show in a "reality view" is there new stuff out there too?
H: Yes so that's the basic functionality of Layar. The more advanced stuff comes with Layar 3 which launched on Dec 5 2009 on Android and will launch on iPhone in February [see the iPhone stuff below] There's a whole raft of really exciting new features with that.
For example, 3d models in the reality view.. For the launch of Layar 3.0, Layar gave the developers kit to 30 developers to try out, but only five managed to get something done by the time of the launch.
I did the AR Beatles tour: the concept of that is that there are 42 points of interest in London and Liverpool and seventeen videos that auto-trigger when you get within 30 metres of a POI. Along the route there's many 3D models, including of a yellow submarine and a model of the Beatles crossing the road at Abbey Road.
I'm working on some other projects, commercial applications for 3D, for example building models of buildings in 3D that can be used in environmental consultations.
SS: So that's when you look up at a half-finished building through your mobile screen or viewfinder and see it as it would look fully completed?
H: Yes that's right, the UAE and the Netherlands are two of the places interested in that. There's a lot of interest in the 3D models.. the music industry is looking at this, even the automotive industry, I can't talk too much about this but there are some really interesting projects under development.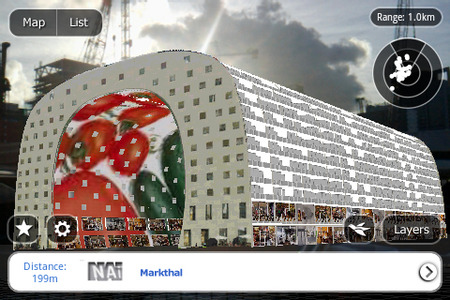 SS: That's a shame, sounds really interesting. How many developers are there using Layar at the minute?
H:There are currently 1500 active Layar developers to the best of my knowledge.
SS: How did you get into developing for Layar? Were you an app developer before?
H: Developing for Layar is now my full-time job. I was running a travel company but set up the AR business as my full-time job. I wrote my first website when I was 15, but I'm not a classic programmer and developer because I'm also keenly aware of how best to use a site or service to increase sales. As soon as I saw this technology I just got it – I saw how it could be used.
I had a hunch about it, just like I did about the internet back in 1994 – and that worked out. The technology will one day grow out of mobile phones into other devices, Vuzix are making AR visors for example… The technology is in its infancy in terms of everyday use by – though of course it's been around in the military for years.
SS: Why did you think the Beatles made a good subject for an app?
H: I lived very close to Abbey Road growing up and I'd always see people going there and taking pictures. One feature of the app is that you can have your photo taken with the 3D models of the Beatles walking across the road so it looks like you're there with them.. I hope no-one's going to get run-over doing this, but I haven't had any complaints so far.
SS: There have been problems with Layar on the iPhone – currently you can't get either Layar 2.0 or 3.0 on the iPhone 3GS. What's happening with Layar on iPhone? When's it coming back?
H: Layar 3.0 came out on both Android and iPhone before Christmas but there were problems with the iPhone version.
There were reported crashes on about 15% of uses so Layar pulled it completely rather than keeping up a faulty app or reverting to Layar 2.0. It was on jail-broken iPhones only that the app crashed, but it wasn't good for the reputation so Layar have rebuilt it from scratch and are releasing it to a closed beta testing group in February , then, following the Apple approval it will be released properly.

SS: Looking forward to it…
See Howard's site: augmentreality.co.uk
See Layar's site: layar.com
Related:
CES 2010: the Vuzix Augmented Reality visor – w00t!
Augmented Reality shoes from Adidas
My Augmented Reality wish-list