Guess who's getting their Blackberry on
He's featured in our Guess the Celebrity feature before, but who is this finely dressed gentleman deeply engrossed in his Blackberry? Any clue about this person will result in immediate and accurate guesses on your behalf – so instead, I'm going to provide a few clues that you'll only know about if you are truly obsessed with this very powerful individual.
He was recently caught reading emails on his Blackberry, during his daughter's soccer football match, only to be slapped on the wrist by his missus, prompting him to return it to that unattractive holster. He's a well known Zune user and knows his way around Apple gadgetry.
Got it? Find out who the Crackberry addict is after the jump…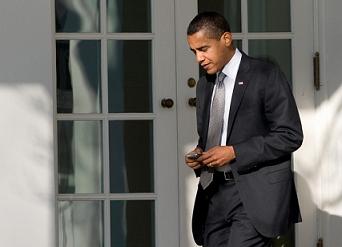 His security team advised against keeping it as it was thought the Blackberry's technology does not meet the highest standards of the Secret Services. So he fought, and fought, but alas was unable to keep and maintain his Crackberry status. Yes, it's the President of the US of A, Mr Barack Obama. Still, he has been given a Blackberry-esque alternative. Albeit, it's not the nicest phone in the world, but it's the closest thing he's going to get to a Blackberry.
Does this make him the first web 2.0 president as well as being the first president to have his official portrait taken in digital form?
Check out more celebs and their gadgets here