The newest netbook on the block is the Archos 10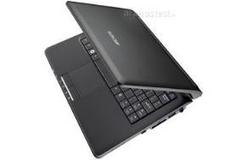 Archos is probably better known for its extremely covetable line of internet sporting PMPs – just ask Zara, she waxed lyrical about them last year. Well, now it's 2009, Archos seems to be abandoning PMPs for the time being and is focusing its attention on netbooking (a similar move echoed by Dells foray into the mobile market).
I don't think anyone could have guessed what its next move was going to be – a 1.3kg, 10.2-inch netbook, dubbed the Archos 10 (seemingly to keep in line with the theme of the 5 and 7 models). It sports all the usual stuff you'd expect a netbook to have – so, there's an Intel Atom Chip, 1GB of RAM, 160GB HDD and three USB ports for plenty of plug n play action. This all comes housed in a none too shabby outer shell. There's also WiFi and a 1.3 megapixel webcam to get your teeth into.
Complementing the lappy is Lotus Symphony, equipping the user with numerous office applications to work efficiently, and Xnview to edit all your photos with ease, to be posted on social networking web sites or simply sent by mail
Pricing and availability details are unknown at the moment, so as soon as we know more, we'll deliver an update.

**************************Update: The Archos 10 will be available here from the end of January for £329*********************************************
[via
Stuff
]
Check out the latest laptops and netbooks here