Shiny Review: The Archos 5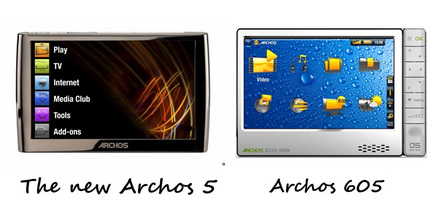 The latest PMP from Archos has won serious acclaim from a variety of reputed press. But just why is this sleek 5 inch PMP getting all this praise? I think it's so impressive I even put the 7 inch version on my wishlist, so I'm sure you're dying to know all about it now. Normally we'd show you it in video form but due to a rather shoddy wireless Internet connection in the office I'll take you through the pros and cons the old fashioned way.
Style
The Pros
You can't deny this is a seriously elegant piece of kit. Compare it to the previous range and you'll agree it trumps it, beats it round the head with a blunt stick and proceeds to tell a string of offensive 'Yo Mama' jokes. The screen is 4.8 inches and though it's not QVGA it's viewable from all angles- unlike its predecessor. No matter where it's placed when you're sweating on that treadmill, Dexter will still be viewable in crisp colours, and the glossy coated screen is a joy to behold, far more attractive than its matte predecessor.
Cons
It's very nice there are no fiddly buttons but that does mean the delightful screen gets rather smudged by your fingers. Also, when you're holding it it's IMPOSSIBLE not to be slightly obscuring at least a corner, as there are no hand holds on the front.
Videos and Streaming
Pros
The devices utilizes Adobe Flash 9 video which makes for oh so smooth video streaming. One press will take you to YouTube, daily Motion or the Archos portal and you can be browsing and watching videos straightaway. I was testing the 5 not the 5g version on a slow wireless connection and experienced no freezes or loss of clarity when viewing footage. It plays the majority of files, from DivX to MPEG4, which means DVD quality.
Con's.
None. Wow. This is the area where it truly excels.
Price
It costs £279 for 60 GB and the price goes up in increments. It's expensive no doubt about that, and you might wonder whether you'd be better off with a UMPC. The fact that you have to pay extra for the added features such as the DVR recorder, TV snap on and GPS are also very annoying.
Browsing
Pros
The Archos 5 uses an Opera browser for getting on the web and it's very intuitive. The pop up keyboard is simple to use and includes all the necessary buttons (you'd be surprised how many people forget that you want the @ key on the main keyboard). You can set up push email if you like, and the on board Wi-Fi is good at picking up local hotspots.
Cons
I realize Archos want to push their Media Club options but it would be nice if you could remove their million (feels like) shortcuts that lead to paid services. Seriously, if I want to rent a film I'll do that I don't need a million buttons 'conveniently' taking me to their homepage.
Sound
Pros
Crystal clear through headphones.
Cons
Very tinny and weak through the built in speaker.
Applications
Pros
You get a built in widget system that are built with HTML, CSS and JavaScript. They contain useful application like calendars calculators and an RSS reader. The PMP is also compatible with the iPlayer, which means lots and lots of Eastenders omnibuses
Cons
The menu isn't very comprehensive so far and could do with major development. With enough support it might rival the Android, but at present it looks like its second cousin, three times removed.
Field Test
Pros
The Archos has withstood bumps in my handbags, a couple of accidental drops to the floor and long car journeys, without a scratch. It stores a huge amount of footage and the playback quality is amazing.
Cons
The battery doesn't last that long, so make sure you always carry the charger with you. Gripe number two- the charger. Whilst previous Archos devices have had USB to micro USB chargers or wall chargers this has an odd proprietary Archos USB charger that means you cant lose it.. or else! There's also no included case or stylus like the previous models, which seems like a huge oversight to me, as this will get a lot more smudges than the others. You do get a included duster though to keep the screen clean, how generous.
Verdict
You might be paying a lot for this machine but you're getting the most stylish PMP on the market, as well as one which excels in internet browsing and allows you read PDF's. I'd suggest waiting for the sales as they might bundle in some of the ad-ons for free, but if you want a high quality PMP you can't do better. It's just a shame about the proprietary charger.
Related: Archos releases 3 new PMP's, the Archos 5, Archos 5g and Archos 7!