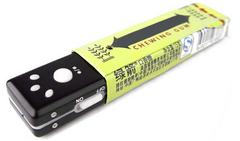 Oh god, I've developed an addiction to the Chinese Wholesale Electronics store. After yesterday's tasty looking Strawberry USB Drives, I find myself salivating over this Mini spy camera with audio and video recording, which the website is encouraging me to place inside an empty chewing gum wrapper for "almost undetectable covert surveillance" (note the judicious inclusion of the word "almost" in that blurb).
The camera comes with micro SD card slot, audio and video recording (176×144 resolution) and I can make a bulk purchase of 50 or more, which is likely to make me incredibly attractive to other humans.
Also, what's with the cat paw print on the front? It's bringing to mind thoughts of Idiot Toys's Gadgets with Faces category,
Anyway, if I make the bulk purchase, who's in?