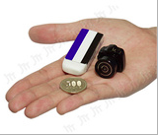 Have any top secret spy missions coming up? Then check out this crazy small DSLR.
It only weighs 12g, with the actual size only 2.5cm x 2.5cm x 2.6cm. So for $120 you can have a mini camera that shoots video at 640 x 480 resolution, take photos at 1600 x 1200 res, plus there's even a mono speaker.
I wonder if they will make telephoto lens for it?
Via JTT