Guardian Launches New iPhone App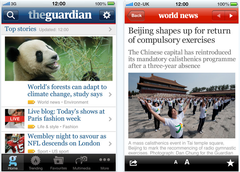 The Guardian has released its new iPhone app today. The app has been launching with the intent of providing readers with "more frequent updates", and a a broader range of content and make the iPhone news-browsing process a better experience.
While the new app is free to download, you will have to get a six-month or yearly subscription, the former costing £2.99 and the latter £3.99. For this, readers can expect to receive free goal alerts for many UK and European football matches, video content, comments, and trending stories from the Guardian website and across Twitter and Facebook.