MyVelo launches the bike you design yourself online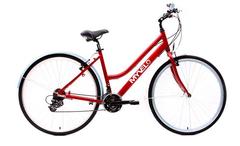 In the market for a new bike? Then it might be worth checking out MyVelo This enterprising new West London company thinks that most bikes that are sold by traditional retailers, are, well, a little bit boring. It wants to give you the chance to choose the bike you want and you can customise it all online.
To buy one of the bikes, which cost £375, you visit the MyVelo website and then choose the colours for your frame, wheels, rims, mudguards, saddle and grips. You can select from white, blue, green, black, red and pink and mix and match however you fancy.
If you'd prefer to give the bike a spin before you buy you can visit the company's London showroom.
The bikes themselves are hybrid sports cycles optimised for both commuting and leisure. They feature lightweight aluminium alloy frames, 21 speed Shimano gears, an Italian Selle Bassano 3 zone comfort seat, fully adjustable stems and handlebars and Kenda puncture resistant tyres.
'MyVelo gives consumers choice and enables them to personalise their bike If they want blue mudguards with a green frame then why shouldn't they have it!? I expect some users will even buy more than one set of mudguards,' explains MyVelo founder Raj Tandon. 'That way they will then be able to change the colours to suit their mood.'