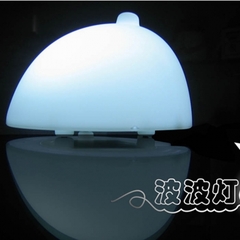 Oh dear, another year, another Boob Lamp. The human race doesn't learn from its mistakes, it just continues in its blind race to make more household gadgets shaped like body parts.
Marketed especially at "lonely men", the Boob Lamp from SourceSquare promises to shed a "warm and soft light" through your room while enhancing your interior decor. I don't know what it will do to your sense of self-worth but that is your issue, not SourceSquare's. They just concentrate on making cheap LED lights in novelty shapes.
Push the nipple to switch the light on. It's powered by USB so you can keep it right next to your computer.
See the Boob Lamp here on SourceSquare for $10.99
– gives a whole new meaning to "click to enlarge"
Related: Boobquake: does cleavage cause Earthquakes? Find out today..