Yes, there's an app to help you sky-dive: Airkix for iPhone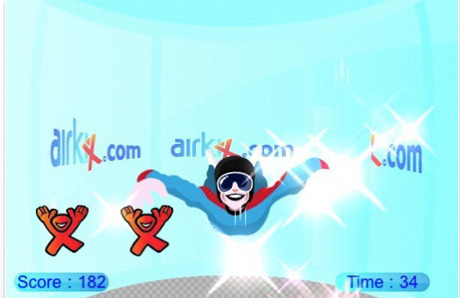 You might think that tootling around on your phone is one of the least useful things you can do to prepare for a sky-dive. Surely anything from jumping off your bed to practising trying not to be sick would be more useful.
But no! There is now an app to help you skydive – or at least – prepare to sky-dive. The app is a game named after indoor sky-diving specialists Airkix who made the game as a spin-off for their flight simulation centres.
They explain:
"The Airkix App is a free-to-download video game that gives users a chance to practice flying before visiting the centre or the opportunity to re-live their previous body-flight adventure. The App is closely aligned to a first-time flyer experience at Airkix, which has centres in both Manchester and Milton Keynes."
I just hope nobody too impressionable reads that first sentence and thinks their iPhone can literally help them practise flying. Not even Steve Jobs can do that for you friend.
If you're interested, indoor sky-diving involves you leaning into a giant vertical wind-tunnel that lifts you off your feet and lets you "fly". Lean and twist to move around and the aim seems to be collecting stuff that is floating around by manouevring yourself into the right places.
That's what the app is about – after we had a quick play. Tilt the iPhone to move the skydiver so he bashes into the "x-men" floating around and get points for hitting as many of them as possible.
Can't say I actually felt like I was sky-diving, or that I'll be jumping out of a plane on the basis of what I've learnt, but it's free, fun for a bit and it has certainly made me find out what indoor sky-diving is. 10 out of 10 for brand and app co-ordination there…
Airkix have centres in Manchester and Milton Keynes, video below roughly explains what happens..