Weather Stylist – site picks outfits based on your weather forecast
If a website that recommends you outfit combos based on the weather in your area sounds a bit gimmicky – don't be put off, this is fun. Weather Stylist, a website and now an iPhone app, asks you to input your city then finds you a selection of different outfits that match what the weather will be.
Okay so it doesn't change depending on whether rain is intermittent or patchy but it does seem to be affected generally by the temperature. Take the clip below for example: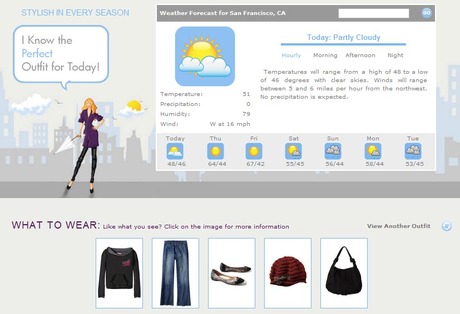 It shows about four items, then you can refresh pretty endlessly to get new outfit ideas. Click on the image of an item and it gives you a price and a link to an e-tailer.Not sure if it adjusts the fashion style to the city you're in. I guess fashions are a bit different in Salt Lake City compared with LA. I aint no fashion specialist but their suggestions look pretty useful. It's not Vogue photoshoot fashion – but then, you can't wear that anyway.
Big Downside 1) pretty crucial for any UK readers – this doesn't cover the UK. It claims to cover 500 "international cities" but sort of freaks out when I type in London.
2) the temperatures are in farenheit, I don't even understand that anymore.
So, I wouldn't bother downloading the app, but check out the site, and we'll see if they start to build the UK into it.
Related: Met Office release free weather app