Playfish issue Cash Cards available in Sainsbury's: real money for game money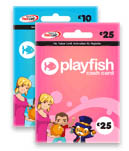 Paying money for virtual goods has always raised a few heckles in the media. The thought that people are spending hard-earned pennies on virtual strawberry seeds in Farmville or virtual pumpkins to decorate the kennels of virtual dogs in Pet Society get traditional media organs a bit het up.
Admitedly paying money for what is essentially a few pixels can seem ridiculous but the counter-argument is that people always have and always will spend their money on dumb stuff. And just because the stuff is virtual doesn't make it more or less dumb.
Anyway, now it's all going one step further as online games makers Playfish now sell Playfish cash cards in shops in exchange for real cash.
Their release reads:
"Playfish Cash cards are now available to buy in WHSmith and Sainsbury's and can be exchanged for Playfish Cash which can be spent in all of Playfish's supported social games. Playfish cash can be used to buy virtual goods, for example in Pet Society, Playfish's most popular game which has over 19 million monthly users, you could buy your pet a new set of clothes, or some cool furniture for their house. In Restaurant City, which has over 15 million monthly users, you could buy a new jukebox or some great new tables and chairs for your restaurant."
I don't think Playfish game tokens are going to take over from book tokens anytime soon, but given the number of users, I can see these selling.