Three fashion pieces inspired by Google…
If Google made t-shirts, is this what they'd look like?
Well they might do, three fashion pieces inspired by Google are currently on limited sale in the the Google store. The pieces are by young designers who are finalists in the CFDA/Vogue Fashion Fund competition sponsored by the search engine.
The t-shirt above is by Gary Graham and is described as a Deconstructed peace "vintage" inspired t-shirt.
I like the search inspired magnifying diamond pendant from a designer called Waris, and there's also a multi-yarn knit cardigan and scarf in Google's signature colours by Ohne Titel.
The scarf I don't think is trying very hard, it seems like the designer just looked at the google logo and noticed the colour scheme. What about basing a scarf around gmail eh? That would have to be the most amazing scarf ever, but I do concede it would be very difficult to conceptualise. I imagine fashion designers would probably rather theme clothes around water or romanticism or something.
Anyway interesting pieces.
Below is the search-inspired magnifying diamond pendant from Waris: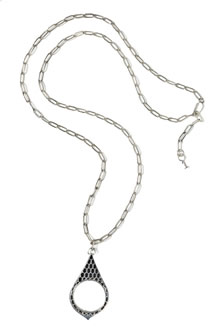 And this is the multiknit scarf:

Available for purchase from the Google Store
Scarf $300
Tshirt $85
Necklace $200