Shiny Valentine's Giveaway: Philips Sensual massager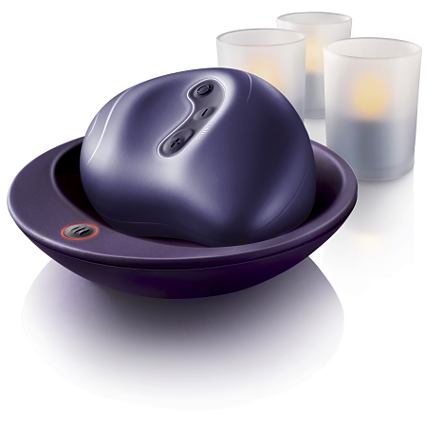 As Valentine's Day approaches and our thoughts turn to warm sensual things, we have the good fortune to offer a ShinyShiny reader one particular warm sensual thing – not a hug I'm afraid, but a warm sensual massager, courtesy of Phillips. Yes it is indeed called the Philips Warm Sensual Massager for Sharing and has a specially designed charging base that allows it to be pre-warmed to a comfortable body temperature before use.
It has three different stimulation spots and five vibration patterns, letting the user adjust the intensity of vibration in each mode, from a soft purr to a seductive hum. And unlike many of its competitors, Philips Sensual Massagers are designed to be sleek and discreet which gives them the look of a high-tech gadget rather than that of a sex toy. That's why, Phillips reckoned, it would appeal to our geekier audience who prefer to be frotted by serious-looking gadgets and not rubber rabbits.
The set also includes three rechargeable "candle lights" that you switch on and off by twisting the base, letting you create an atmosphere of romance. The set works in combination with your caress to heighten your pleasure and get you both in the mood for intimacy.
Meant for use with couples and lubricants, it works all over body as a part of battery-powered foreplay. It's rechargeable and waterproof.
Anyway, dear Shiny readers, we have one of these warm buzzy little vibrators to give away to someone who answers this question: If you could name a vibrator.. what would you call it?

Email: [email protected] with "ShinyShiny Philips Massager Competition" in the subject line plus your name, address and answer to the question.
The competition will run for one week and the winner will be notified over email.
Otherwise the product is available from the Phillips website