Top five flab-fighting tunes revealed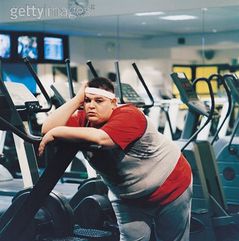 The New Year brings resolutions and resolutions inevitably bring trips to the gym. Though the hours sweating on some conveyer belt in FitnessFirst seem to be inevitable – the music list doesn't have to be. And as you might expect, some tunes are better motivators than others. If we can judge by the musical taste of UK's fitness instructors the officially most motivating exercise song right now is JLS's Beat Again, followed closely by Beyonce's Sweet Dreams.
PRRs for Music compiled a list of the top 5 Songs as used by Fitness & Gym Instructors:
1. BEAT AGAIN, JLS
2. SWEET DREAMS, Beyonce
3. HOLIDAY, Dizzee Rascal
4. WHEN LOVE TAKES OVER, David Guetta feat. Kelly Rowland
5. I KNOW YOU WANT ME (CALLE OCHO), Pitbull
We guess that the hip-hop and rnb rhythms are the sort to get your heart pumping and keep running on and on despite the heat and sweat and sight of yourself in the mirror looking like a lobster. It makes sense, something like SnowPatrol would most likely make you curl up on the ground and put your head in your sports bag.