The iPad as a business device: the potential and the problems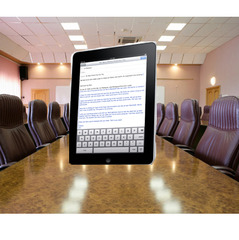 Could this be device that breaks Apple into the business market? Will the suits and office workers of the next five years be pulling iPads out of their briefcases? Yes argues blogger Matt McHugh brought to our attention in a Shiny comment. McHugh imagines an iPad-enabled office: his scenario – instead of getting a desktop in the office and a work laptop to drag around, your company spends £500 and gets you an iPad, you dock it at work and it's locked to your work server.
We quote:
"You start at a new job, and instead of a computer, they hand you an iPad. That iPad is tied to the company network — getting all of its applications, data, web/e-mail access streamed to it from a secure wireless server managed by the IT department. On your desk, you have a keyboard and mouse you can plug into your iPad when sitting. Otherwise, you can pick it up, take it to meetings, use it as you like anywhere within Wifi or 3G range."
Makes sense huh? He also points out that this increases security so if you break, lose or pour coffee over your iPad you can just re-download all the company's data and software onto a new device. And of course it costs less for the company to replace.
"The iPad is a secure, mobile, wirelessly tethered computer perfect for a business user's daily needs. And, people love using it because it's cool and simple." Matt says.
A model like this would work in universities or schools as well.

The Problems
On the downside, I think that offices want something a bit more advanced than iWorks on their everyday computers. Like Excel?
Depending on the work they're doing, they may want more powerful chips as well. That 1ghz processor won't handle high-power programmes very well, and as for not running more than application at once, that's a bit of killer: couldn't have twitter, your email and safari open at the same time. Maybe when we hit iPad 3.0 this will be feasible. In the meantime that model is only possible for offices doing simple work.