Sony Ericsson turns phones green with new Elm and Hazel handsets
Driving the eco-bandwagon into the mobile phone market, Sony Ericsson has just gone and launched a pair of green phones today, the Sony Ericsson Elm and the Hazel.
Elm and Hazel like the trees – the nice green trees.
"The Sony Ericsson Elm and the Sony Ericsson Hazel phones offer consumers a green choice without compromising on features or fun" say the company in a press release.
So, names aside, what's so green about these handsets?

1. Less energy and raw materials are used in their manufacture and packing:
– Made out of recycled plastics
– Free from hazardous chemicals
– The instructions booklet is not printed on paper but is an e-manual in phone
– Packaging has been minimised

2. The Greenheart phones are designed to be more energy-efficient
– Low power consumption charger (EP300 GreenHeart(TM))
– Clearer voice technology should mean lower volume is required
– A Widget Manager application, which allows users access to their social networking page via the stand-by screen and quickly switch between different social networks, reduces the battery-wasting waiting time.
3. They come with apps for helping you cut down on CO2 and energy use in other areas of your life..
– Walk Mate eco application
– Green calculator
Otherwise, these are nice mobile phones with good cameras: 5 megapixels, with up to 4x digital zoom. It has flash, video, a video light and face and smile recognition. The phones also make social networking easy, with inbuilt widgets.
The Hazel comes in Superior Black and Passionate Rouge, The Elm is a slider and longer and slimmer than the Hazel and comes in Metal Black and Pearly Rose.
The Elm: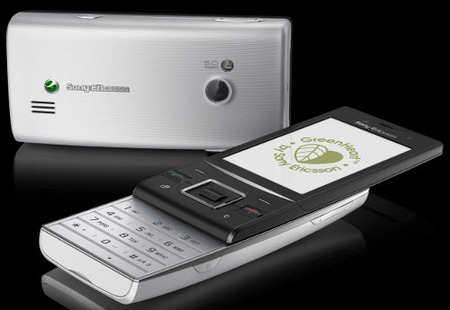 The Hazel:

The Sony Ericsson Elm and Hazel are set for launch in the first quarter of 2010 and pricing will be announced closer to the time.
Related: Is it an app? Is it a user interface? No, it's a panel. The Sony Ericsson X2 has panels but what are they?