Fantasy Festival: Last FM app lets you create the new Glastonbury
Last.fm has been a bit quiet recently as Spotify corners the online music streaming. However cute little apps like this Fantasy Festival from Sony could bring a bit of life back into the site – still a hangout for music purists and adventurers.
Sony's Fantasy Festival combines music with the slightly nerdy attraction of the Fantasy Football idea and lets you curate a 15 band strong music festival on a certain budget. Obviously the weird little thrash-indie band your friend is in is cheaper than Beyonce.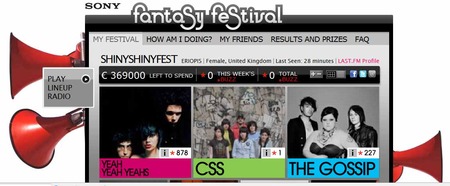 The most popular festivals get little weekly prizes – some darn serious headphones… and the most popular festival of all gets four free tickets to "secret amazing European festival". More informatioin on Prizes here.
You can also create festival leagues – according to genre… and add your friends' line-ups to your league.
It's quite simple and fun to do – like making a playlist but slightly more. Then, afterwards you can listen to the playlist of the festival – though being Last.fm that plays lots of bands you didn't include but that are linked to your selections.
Fun thing? Yes. Of course when the social aspect kicks off this would get even more fun. This is the ShinyShinyFEST here: don't judge my taste, but do add some others in..
Make your own at the Fantasy Festival site.
Related: Blip.fm – It's like Last FM and Twitter had a baby