Blip.fm – It's like Last FM and Twitter had a baby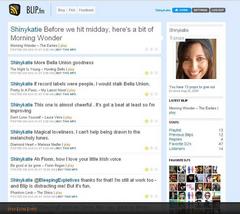 Bored of Twitter yet? Me neither, but that's not going to stop me from playing with the other Web 2.0 children, and Blip FM is like the illegitimate offspring of Twitter and Last FM. Create your user profile (because you haven't got enough of those, right?) look for tracks using the simple search bar, write something about why you picked the track or how you're feeling, and Blip your song and thoughts to your listeners. See over the page for how to join Shiny people on Blip.
The great thing about it is you already get given a load of fellow "DJs" to follow based on your song preferences, and you can add or remove people as you go along, putting together the ultimate live playlist courtesy of your fellow Blippers. We've been having superfun in the office, and the best thing about it is that our music maestro Stuart (My Chemical Toilet) is on holiday and will return to discover we've all joined Blip without him. This may be less funny to you than it is to us.
Join me on Blip! Join Gemma on Blip! Join Shiny Shiny on Twitter! Get the Shiny Shiny news feed on Twitter! It's all just too much fun.