Vuzix Wrap Video Eyewear – watch films on a visor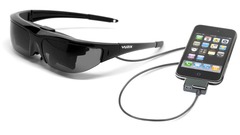 Films are moving from the TV screen to visors.
Like something out of a sci-fi flick, you can now watch films on what looks like a pair of sunglasses. Plug the Vuzix Wrap Video Eyewear into your laptop, DvD, games console or even mobile phone and watch videos on what appears to be a 44 or 67 inch screen.
Like headphones, but for vision, the Vuzix Wrap Eyewear makes watching video on your iPod or phone suddenly much more attractive. Instead of peering at a 4 inch screen, plug the visor in, put it on and you get the impression of watching the video on a screen ten times larger (there's a 44″ and 67″ setting). Suddenly, mobile video makes sense.
More than 100 mobile devices already feature the video-out capability required to work with the Vuzix Wrap Eyewear.
Other devices the Wrap video eyewear connects to, with the appropriate cable adaptor, include: camcorders, portable DVD players, PCs and game consoles. All Wrap devices can play back 3D content giving an immersive experience. Styled on wrap-around sunglasses these fit on your head like a visor and are available in three versions:
The Wrap 230 (£129.99), Wrap 280 Widescreen (£179.99), and the Wrap 920 (£249.99).
Truly, the future is here. Don't think doing this on the bus would be very sensible, but at your desk, on a plane, in your room – it's like having a home cinema in your pocket.
Vuzix make video eyewear for the entertainment, defence, industrial and low vision medical markets. This is one of their big consumer products. They're also involved in virtual and augmented reality solutions – a company to watch.
Vuzix Wrap Eyewear: from the Vuzix store