Souped-up new TomTom app for iPhone
Smarter and better than its predecessors, an updated TomTom app for iPhone is working its way through Apple's approval processes. Should be out in the next few months and if you use the iPhone's TomTom app this update should be something to look forward to.
New features include:
1. Lane guidance: giving drivers extra clarity when navigating difficult junctions. Available in both portrait and landscape orientations.Helpful considering that this must be one of driving's most stressful moments.
2. Text-to-speech technology helping motorists to keep their eyes on the road by enabling street names and places to be read aloud as part of the spoken instructions
3. "Help Me" providing direct access to emergency numbers and directions to the nearest emergency providers
4. Customisable audio warnings when approaching safety cameras or driving over the speed limit, increasing driver safety and saving money
5. iPod player control ensuring drivers can conveniently control their music from within the application.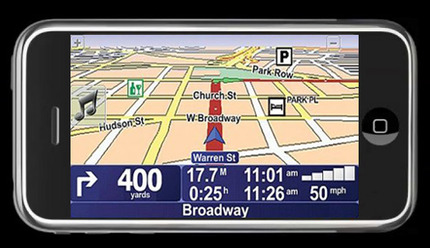 They've also updated the map and safety camera database. Features like the within-app iPod controls are nice touches from a manufacturer that ha – shows they're really paying attention to the driving experience and
Existing app owners will get this upgrade for free.
TomTom UK and Ireland iPhone app can be bought for £59.99 from iTunes