Muffphones? er… knitted earphone covers give you music plus the warm ear experience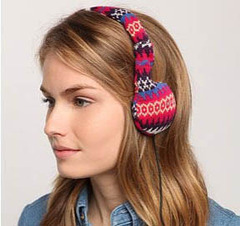 Bringing two wonderful things together: headphones and err.. ear muffs, skate, surf and snowboard headwear company Neff have created a headphone that come with a knitted case.
Less useful in a surf context – these is hardly bikini-accessorising stuff, this would certainly be good for skiing, snowboarding and just wandering around in the winter, looking darn good. Mixing sixties wholesomeness with geek trendy, these are pretty sweet and consequently have made it into pricey though hipster store Urban Outfitters.
The knitted case is sized to fit the bass-boosted headphones.
Sadly don't seem to be available in the British store but find them here on the Urban Outfitters American store for $42

[via incrediblethings]