The Loudest Telephone ever, at 149dB, it's louder than jet take-off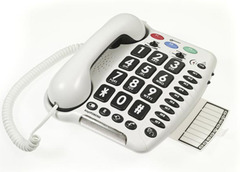 A new phone from Geemarc claims to be the loudest in the world. A piercing highly audible ring isn't always a quality you look for in a telephone but this landline fills a gap in the market.
Intended for the hard of hearing, the AmpliPOWER50 phone rings at to 81dB, 3 times the volume of a standard phone. This can be amped right up to an extremely loud 149dB, louder than gun muzzle blast and jet engines which sound at around 140dB. The handset is supported by the Royal National Institute of Deafness but they warn that unaware users should not be exposed to the phone.
Despite the potentially dangerous levels of noise, it's a product that people want:
"There is huge demand for this product in the UK because there are more than eight million hard of hearing people," said Andrew Grossman, managing director of Geemarc, "Our research proves that not hearing the phone ringing or not hearing the person on the end of the line is one of the biggest frustrations shared by the hard of hearing community and their relatives."
Mark Catling, director of RNID products, said:
"This is the loudest phone we have ever tested. It's important to know there are products like these available from the RNID to help make the lives of people who are deaf or hard of hearing, and their relatives, easier and more enjoyable."
The decibel levels are adjustable, with a safety mechanism so the phone can be used by people with standard hearing. The AmpliPOWER50 also has a unique ground-breaking technology for prevention of feedback and howling even when used at the highest levels of volume.
It is hearing aid compatible and lights up when it rings.
Available from RNID.org for £89