Bringing sexy back with the Palm Pixi
Palm is sexing up one of their new phones – the Pixi – with a range of limited edition high-concept backs: getting artists with big ideas about nature and art to design five artistic looks for the phone.
The Skin design, which makes the phone look like a knobbly gold python was designed by LA Sherri Bodell. She says: I created "Skin" to closely resemble what my clothing, with all of its metal beading, looks like on a woman's body. Well. Pretty hot is what it looks like.
The Hummingbird design (features a turquoise bird and some flowers straight out of an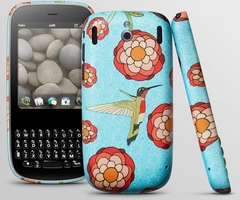 oriental silk screen): "The hummingbirds in my work represent our society's need to constantly consume energy in order to survive." says the artist- Cole Gerst. PS this man designed album covers for the Yeah Yeah Yeahs.
The Pixi is Palm's second WebOS phone after the new Pre, out this month. It offers both a multitouch screen and a full QWERTY keyboard, though arguably Palms are out-tricked by the iPhone and the Blackberry at the top end of the spectrum. The beauty is the appeal with these little Pixis.
See the Pixi onthe US Palm site. UK launch expected soon.