Have you got Internet Addiction – test yourself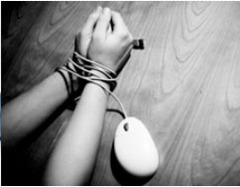 Internet addiction could become the biggest problem for kids of this generation a doctor was quoted as saying on CNN.
"Internet addiction could easily become one of the most chronic childhood diseases in America, says Dr. Dimitri Christakis of the Center for Child Health, Behavior and Development, in Seattle.
Internet addiction is not officially recognised as an addiction in the States or Britain but rehab centres for internet addicts have opened, and recently studies in Taiwan have linked it to genuine disorders.
Apparently boys who spend too long online were more likely to develop ADHD and hostility while the effect on girls tended to be social phobia and depression.
So when do you stop using the internet and start being addicted to it?
Follow on after the jump
That's what these studies were trying to determine, they worked a range of factors that can more or less severe, they include:
"inability to cut back on usage, a preoccupation with online activities, and symptoms of withdrawal such as anxiety, boredom, or irritability after a few days of not going online."
Um, sound familiar to anyone..?
Is internet addiction really a problem? They take it pretty seriously in mainland China – with children who spend too long on the internet sectioned and given electric shocks.
In China several suicides and one murder have been attributed to 'internet addiction' according to a Washington Post article with some psychologists saying that the addiction can be crippling, leading people to neglect work, school and social lives.
Yikes. And smartphones and ever present wifi aren't helping. It's like giving an alcoholic free beer says CNN's Dr Christakis – "It would be as if we mandated that everyone drink two beers every day or everyone gamble for an hour every day."
Something to mull over as you browse the err, internet.
This website has more information: www.netaddiction.com
It's also got a test to check if you've got Internet addiction. I wouldn't swear by the results, personally I think some of the questions are a bit stupid. However, for what it's worth, here it is:
If you have five or more of the symptoms you can be diagnosed as an Internet addict:
1. Do you feel preoccupied with the Internet (think about previous online activity or anticipate next online session)?
2. Do you feel the need to use the Internet with increasing amounts of time in order to achieve satisfaction?
3. Have you repeatedly made unsuccessful efforts to control, cut back, or stop Internet use?
4. Do you feel restless, moody, depressed, or irritable when attempting to cut down or stop Internet use?
5. Do you stay online longer than originally intended?
6. Have you jeopardized or risked the loss of significant relationship, job, educational or career opportunity because of the Internet?
7. Have you lied to family members, therapist, or others to conceal the extent of involvement with the Internet?
8. Do you use the Internet as a way of escaping from problems or of relieving a dysphoric mood (e.g., feelings of helplessness, guilt, anxiety, depression)?
Related: Halo 3 is as addictive as heroin or the crack pipe says judge who's clearly never played Halo