ViewSonic releases VPD500 a palm-sized movie-book – but do we want it?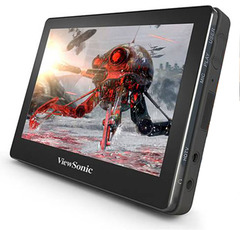 Are moviebooks the new ebooks? Do we actually want them?
ViewSonic have just released two new palm-sized media players: the VPD500 and VPD400 with 5inch and 4.3inch screens respectively. These little devices, ViewSonic tells us, bring movies to our hands and the glories of audiovisual world to our commute. Episode six of Summer Heights High anyone?
But though the machines look pretty glamorous, are we actually going to use these little pieces of movie-displaying engineering?
Follow on after the jump
While ebooks target a definite niche with an established audience – the idea of handheld reading material is as old as papyrus scrolls and has been popular in the intervening centuries – moviebooks are a different matter.
While you might pull a book or an ebook out of your handbag, would you sit down on the bus and watch 6.5 minutes of a movie or even ¾ of an episode of True Blood?
Just because it wasn't possible before, that doesn't mean we'll want to do it.
Viewsonic are targeting the on-the-commute market. But with commutes being odd portions of time and with the commutees usually being required to pay attention to what's going on, they're not – I think – ideal commute distraction.
Movies or tv episodes aren't made to be split up into these little parcels – they're not an on-the-go format. You watch movies in the cinema or on those nights-in at home, and tv shows are good for when you're slumping on the sofa. I think there will have to be a new kind of content for these moviebooks to work really well. Of course there's always youtube, and yes it is possible to watch hours and hours of 3minute clips one after the other (don't remind me). But, it looks like the VPDs don't have internet access.
"From playing movies on the built-in display or connecting to a TV, users can play video and audio files without going through a complex file conversion process" uh? Is that connected to the internet or not?
Even imagining that a future moviebook did have a good net connection that lets you browse and stream video, would you want to? Would browsing youtube on a 5 inch screen while you're jiggling around on the back of a bus give you a headache? If you just wanted to check something out you can just do that on an iPhone.
I don't think there's a great stock of content that would work well on moviebooks. I could be wrong – Apple's new iPod is getting in on the handheld movie market – maybe there is something in it.
But say you did want to watch something on a handheld device, the VPD range isn't a bad option at all. It looks like a great piece of machinery – I mean, let's run over the specs. 134g is pretty masterfully light, 8gb of built-in memory with a microSD card slot for expansion is not bad. The battery is 4 hours video play or 15 hours of music with the display off and it plays HD, from the photo the definition looks pretty crisp. Nice-looking gadget, I just don't know if there's a use for it yet.
Both MovieBooks arrive in shops next month: £105 for the 4.3in VPD400 media player and £115 for the 5in VPD500 model.