London Transport does geek chic
You know that person in your life who likes model buses and sometimes pretends that their living room is the top floor of a bus? Well now you can help them in their weird delusional obsession by purchasing them something from London Transport's new fashion accessory range.
The range includes, yes, model buses and – I love this – sofa coverings in the same old retro fabric that used to adorn the seats of London buses.
People in London are probably sick of buses, Brits outside London are probably sick of hearing about London, but I have a hunch this will go down well in Japan. They'd probably match it with ribbons and Pikachu and it will look great.
I'm exaggerating, some of the items are quite cute. Though pricey.
See this is what your living room could look like… for a mere.. £2620. That's £960 for an Armchair in 'Brighton RM moquette' and £1660 for a sofa in the same fabric. It looks like this: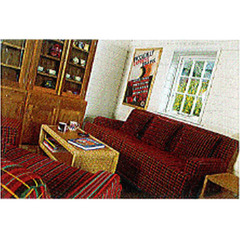 The set-up below looks a bit funkier. I think it's because the poster is great. But costs £95. Bloody Hell.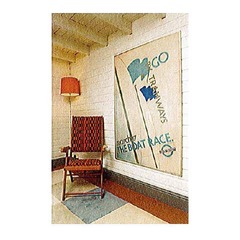 You can also get the tube map printed on pretty much everything, short of your bare skin – mugs and t-shirts and suchlike.
And there are some quite dinky bus-tartan bags, which admittedly I quite like, though would struggle to pay for… £24.99 for a glasses case! Though hello Gibson moquette handbag, you're quite attractive (£149.95).
A few things to consider for the Christmas list.
All items available from www.ltmuseum.co.uk or from London Transport Museum's shop in Covent Garden, London.