Short term HDTV test: The LG LCD 42LH5000
Despite having written about HDTVs for a long time, and even compiling an in depth guide to buying one, I've never had my hands on one for longer than a week. This all changed when LG delivered the delightful looking LG 42LH5000 to my house to my (and my flatmates) unequivocal delight. But once I'd unpacked it from its mounds of bubble wrap and peeled off the stickers would I find it a joy to use, or would the manual be more complicated than the Gaza peace treaty?
Read on to find out about my experiences with it.
The TV was surprisingly easy to set up. True, I did have a helpful man on hand to help with maneuvering it around my tiny living room, but considering it wasn't that light (it weighs in at 17.2kg) it wasn't to much of a problem, and it felt like a feather next to my old 20 inch Sony CRT set. It was very self explanatory to set up, pretty much just plug and go, and though I was worried about hooking it up to all my external devices (XBOX 360, PS3, SKY) connectivity wasn't an issue. The TV has four HDMI ports, a USB slot which is great for playing JPEG's and Divx files on (yay, no more watching movies on the laptop) and it even has a D-Sub port, so it can be used as a computer monitor.
Once I'd switched it on, I used the remote control to create shortcuts to all the external media, and the device allows you to navigate between them easily by pressing the output button. There were even themed images for each device, as I had a small console image labelled game to represent the PS3 and XBOX and a satellite antenna to indicate the SKY box.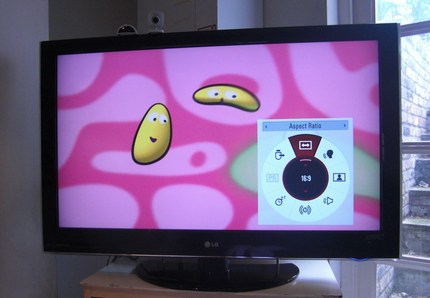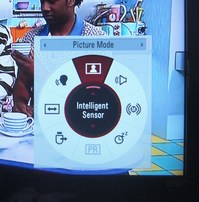 Freeview is built in to the TV, but seeing as I have SKY I didn't utilize that option. When setting up the TV I opened up Picture Wizard which is an easy step by step guide to calibrating the picture and lets you adjust the screen ratio and colour till you're perfectly happy. There are also a variety of modes to choose from such as sports and movies which adjust the image brightness, contrast and depth of colour depending on what you want to view.
I was really impressed by the intelligent sensor which automatically adjusted the picture depending on the ambient light in the room.
Design
The set is very sleek to look at, and I really like how they've included a light up bezel button on the right hand corner which glows a dull blue when your turn it on. I really like the fact that it has a intuitive light sensor which automatically adjust screen resolution when in Intelligent Sensor mode, which means you save energy and get the best image for the situation. Plus, waving your hand in front of it and watching the screen dim and brighten kills a good 5 minutes when you're showing it off to friends.
The inclusion of the USB port is one of the most exciting AND frustrating elements for me, as I think it's incredibly handy, yet very badly placed. They've put this round the back so you literally have to clamber around the TV to reach it- great if you have a huge room, but not so good if your TV is standing in the corner.
Features
There are couple of features about this TV I really love, and they all stem from the incredibly intuitive menu. You have the option to either pull up an onscreen menu which allows you to play with light, brightness, and clarity, and you can also programme the various HDMI functions this way. You can use the large menu to navigate through the USB content, as well as set times, and play with the Freeview settings.
What I really like though is the Input button on the remote which brings up a mini scrolling menu along the bottom of the screen, so you can switch from satellite to console easily. There's also a very useful 'Quick Menu' button that brings up a small scrolling wheel in the right hand corner of the screen. Using this you can change ambient screen lighting, move from 'Game' to 'Cinema' to 'Clear Voice' mode, or set the colour contrast to one of the preset Expert modes you've customized. You also get the option her to use the Intelligent Sensor as well.
There's also an Energy saving button which makes sure you're being eco-efficient with the TV by dimming the screen contrast when in natural light- to save extra power (and your electric bill).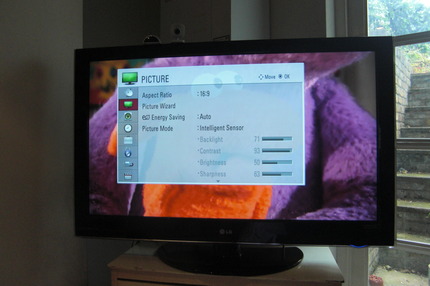 Picture Quality
The picture quality is astounding, as even in the above images you can see how glossy and bright the screen is. We're talking Full HD at 1920 x 1080, with a contrast ratio of 80,000:1, which means the colours are heartbreakingly sharp and defined, and the clarity of the action is simply superb.
The 42LH5000 utilizes a 200Hz system which means that there's practically zero motion blur. The TV deals well with action movies and sporting cation, and the frames are really fluid and well defined. Motion clarity is really exceptional on this model, and the images displayed are very dynamic and attractive to the eye. The variety of settings available also means that you can tailor the picture exactly to your preferences.
Get yourself one of these lovely devices for £899 from Pixmania