Four great FREE Photoshop style programmes
Now Photoshop has long since been the favourite programme for those who like to try their hand at image editing, but credit crunch times means you can't always justify forking out £70 odd quid just to remove red-eye. Sure, if your job revolves around editing images you're going to want to buy this (plus Quark/ InDesign etc), but if you're one of the masses who just need a good imaging programme for cheap what do you do?
I've compiled 4 great Photoshop looky likeys for you to try- and they're all free! Two are online, two are downloadable, it's up to you to pick which one best suits your needs.
Number 1: Sumo Paint
This is the first free Photoshop style programme I worked with, and it still holds a special place in my heart. OK it doesn't do everything you want, so if you're really into editing collages and fine tuning and framing pics this may be a bit too basic, but it sure beats your basic Paint round the head, cuts it into little pieces and distributes it at four secret locations. You get a floating toolbox, huge colour palette. Loads of brush editing tools and you can even upload images from your desktop or a URL. You do need to be online to use it though- which also means you'll have it wherever you go, and not be tied to one computer.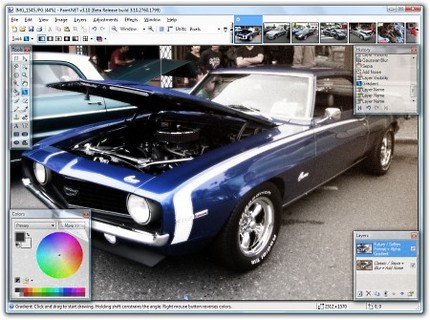 Number 2: Paint.net
This might be THE programme for people who love software and don't want to pay for it. It downloads quickly to your desktop and provides you with a variety of useful tool such as text, colour changing and special effects. You can remove red-eyes, distort images, and even emboss them with colours and sub-layers of your choice. The system is very simple to navigate and should be familiar to anyone who has used an image editing programme before.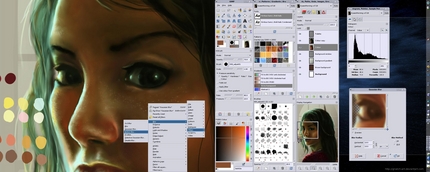 Gimp features many of the photo editing element we love on Photoshop, and is 100% free to download. Gimp works on your computer, and needs no connection to the Web, which makes it very useful if your Wi-Fi is a little shaky.
This is a really easy to use editor, with toolbars reminiscent of Photoshop. It's flash base site which loads really quickly and allows you to crop, colour and add text to images as well as play with them and adjust brightness/red eye etc. It is limited, as a lot of these tools are, and if you want fancy graphics etc you should look elsewhere, but for convenience sake, it's a great tool.
More Tech Tips here.