Embrace the Watchmen release with personalized skins for your computer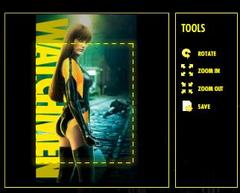 Are you uber excited about the forthcoming release of Watchmen at the cinema? You know I am, thanks to my excited ravings about the related matching T-shirts and sneak-preview images of the casts costumes.
I've just discovered a cool site for those who want to embrace the Watchmen philosophy, as it allows them to customize their online life with their favourite characters.
You can download a selection of cool backgrounds for your computer and personalize an avatar to appear on your social networking sites (I like the Silver Spectre version best -see above). There's also a variety of skins that you can add to your blogs or MySpace page, a widget which counts down to the film release date and there will also be some iPhone content available soon- I'll keep you posted on the latest developments.
I Watch the Watchmen
See ere for more web fun