Sony's XB series of headphones ramps up the bass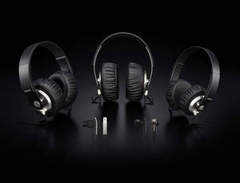 We do love our music here at Shiny Towers, and though our Spotify playlist may include rather more Pet Shop Boys tracks then necessary, it's important to ramp up the bass whenever our Lucy puts on some dirty garage.
Up till now, you'd only obtain a certain level of bass through your 'phones but Sony aims to pimp out your audio pleasure with the launch of their XB series. With XB standing for extra bass, they seem confident that once you try these 'phones you won't ever want to go back to your previous puny 'phones.
The XB range reproduces ultra low frequencies, meaning you get super low audio with resonant sound pumped straight into your ears There are five models in this range, with the MDR-XB700 leading the pack with their 50mm rugged dome-type driver. This reproduces those nasty growls and dirty baselines on every frequency leaving you with a satisfyingly accurate sound-scape.
You can also look forward to a selection of in ear models that deliver bass through a direct vibe acoustic design. The models are all crafted in stylish synthetic leather and the extra large ear cushions look extremely comfortable. There's no word on pricing as yet, but as they're due out in March we should hear about that quite soon.
See here for more audio