Samsung release camera with Beauty Shot mode for girls: Guys get a 10x optical zoom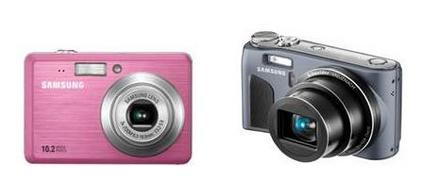 Samsung prove that sexism is well and truly alive, with the launch of two new cameras. Both boast impressive sounding specs (10 megapixels, face detection mode, and auto exposure) but wouldn't you know it, one is targeted primarily at women. And why is that? Well the ES55 is pink AND has a Beauty Shot Mode. Bless. This mode retouches facial skin to give us girls that lovely Barbie-like glow by adjusting the contrast to smooth the facial features. Lucky us.
The boys fare a whole lot better with a black camera that features a 10x optical zoom with a 24mm ultra wide lens for high quality picture taking. They've also bundled in HD movie capture and Dual Image stabilisation, which will let you get great pictures in low light conditions.
And it's black. Grr. How manly. Sadly I don't think the more premium WB500 has a Beauty Shot mode, so I guess blokes will just have to grin and bear it.
They ES55 costs £99 from mid-Feb, and the WB500 costs £229 from Samsung cameras.
See here for more cameras