Philips embraces the metrosexual with a 'man only' hair straightener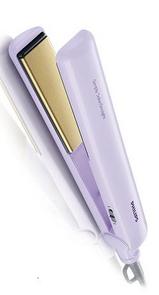 2008 was the year where male make-up really took off, with sales of Guyliner exceeding Superdrug's expectations, so it's not a complete surprise then that manufacturers have turned towards heated tools.Philips are launching a 'man only' hair straightener aimed at taming the male bonce, which has slimmer plates than regular straighteners to deal with the much shorter hair.
They've created this in conjunction with session stylist Andy Uffels, the premise being 'Get your own!' and stop borrowing your girlfriend's GHDs. The plates of the Philips Salon Straight Man are made from titanium ceramic and are ultra slim to reach right up to the roots. They heat up to 200 degrees and will no doubt help those indie boys perfect the ideal tousled mop.
It all all sounds perfectly plausible, I'm just confused as to why they decided it should be a lavender shade? On querying the PR I was told it was only going to be available in Europe. Ahh, that explains it.
(I've been told us Brits get a black version).