Keep your ears warm and entertained with the Earmuff Headphones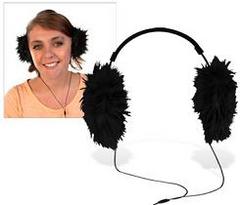 Who doesn't love ear muffs? Especially when harsh outdoor temperatures make your ears feel like they're going to fall off or snap off in fact, like they've been dipped in liquid nitrogen. Ear muffs disappeared off the radar and as a fashion accessory, stepped out of the limelight during the past few years. But coming straight out of the 90s with a 21st century overhaul – it's the very fluffy Earmuff Headphones.
Your ears will never feel so appreciated (unless you buy those diamond earrings of course) – they'll be as snug as a bug in a rug and kept entertained until it's time for them to revert back to their primary purpose.
They're compatible with all music players with a standard 3.5mm jack for £14.99 here.
More audio stuff this way