Get touch feely with the Rubik's TouchCube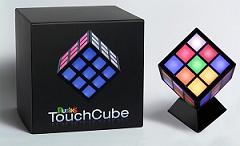 It seems the youth of today just aren't impressed with anything that doesn't flash, light up, come with sound effects etc – poor Twister, it must be covered in cobwebs in the back of a warehouse somewhere. So here's the Rubik's Cube, with ANOTHER modern day makeover, instead this one is electronically light based. Being light based completely throws the premise of the original cube out the window, but if you like colourful flashing cubes and have a penchant for puzzlery – step this way.
The TouchCube is the first completely electronic solvable cube, so the relentless twisting that has the ability to send you into a colour twisting frenzy, has been replaced with a scramble button and finger swipe motions on the coloured squares.
There's no word on a price or when it'll be gracing us with its presence, but it's pretty safe to say it will be at some point down the year.
[via
Engadget
]
Like this? Read this: Rubik's cube/subwoofer mashup from Elac