Cineworld rolling out more 3D screens this year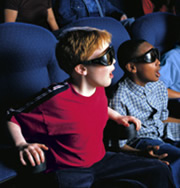 3DTV was all the rage at CES this year, and whilst the idea of owning one at home is getting closer, cinemas still hold the monopoly for 3D films. Cineworld is showing that it's embracing the digital revolution with news that it has signed an agreement with NEC to double the number of digital screens it owns.
They aim to own the largest amount of 3D screen country-wide, and this will give them 144 screens to feature movies on.
Depending how quickly they act, this move could see their profits soar as there are some high profile 3D films being released later this year. Fans can look forward to Disney's Bolt, Toy Story 3D, and of course the highly touted Avatar from James Cameron.
See here for more news.