Win! Win! Win! Five DS Hello Kitty Big City Dreams games up for grabs!!!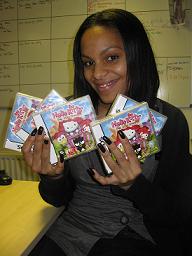 Right, I've got five Hello Kitty Big City Dreams games for the Nintendo DS to give away and I can already tell, it's going to be a scorcher of a competition – coz everyone loves Hello Kitty right? I could have gone for an easy competition question like – what colour is Hello Kitty's bow? Or I could have gone for something painfully difficult like – what year did the Hello Kitty murder case shock Hong Kong? I won't go into the details, but if you're intrigued click here. But I think the competition will be a whole lot more interesting (mainly for me) if there's no specific answer at all. This is going to be more of a creative contest.
I've always wondered why Hello Kitty possesses no mouth. So, the question is – Why doesn't Hello Kitty have a mouth? A question I think none of us know the answer to, but it'll be hilarious reading the answers. The top five ideas win the games – it's as simple as that. I may even publish a few of your answers when I announce the winners on the 22nd December.
So, what are you waiting for? Get those creative hats on and make me laugh. Send answers here.
Winners will be announced and the games sent out on Monday 22nd December. I can't make any promises, but they should arrive before Christmas day. It just depends on the service of the Royal Mail, which we all know can be a bit shoddy.
Please note: This is open to the UK only.
Find out more about the game by visiting the official HK in the city gaming site her.
Like to enter competitions? Check this out: Win! Win! Win! An amazing spa weekend courtesy of Duracell!!!
Check out more Hello Kitty stuff here