Hello Kitty has Big City Dreams for the Nintendo DS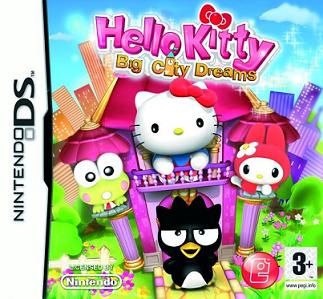 Things have been a little dry on the Hello Kitty front so I'm happy to see she's embarking on a new adventure by moving to the big city to follow her dreams. Hello Kitty Big City Dreams is all about Hello Kitty fun and exploration, so expect loads of cute and loveable friends, frilliness, an overuse of bright colours and irritating yet wonderful theme music. For all those who have fantasies about actually being Hello Kitty the dream ends here. You get to play as the ubiquitous and loveable kitty, exploring a world full of excitement, fun, frolic and friends.
You get the final say on Hello Kitty's abode using the changing rooms theme getting rid of the hideous décor she may have in her apartment in favour of something Hello Kitty-ish – so loads of bright colours, flowers other kiddy-esque patterns then. You also control her fashion choices too, so the fashion police don't have to be summoned and Hello Kitty's friends desperately covet her latest outfits.
The game is split into three fun-tastic areas starting with Hello Kitty's customisable apartment and the area surrounding her home. This is where the exploration comes in. Next, it's taking a train or bus from her apartment to a number of places including the fashion store and Tuxedo Sam's restaurant. And lastly, it's the entertainment area with a rollercoaster, a haunted house and all kinds of other fun stuff that makes the game a great way to waste time.
The Forthcoming game is due to launch on the 24th November. She's having a party and everything, and guess what? I'm invited.
More Hello Kitty stuff? You got it