Motorola's new handsets leaked online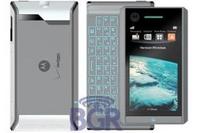 Motorola might be one of the market leaders, but their handsets tend to be rather middle of the road. The Aura aside, you normally get standard flip phones or candybars,which might prove popular but leave the smartphone crowd slightly dead inside. Well images have just surfaced of phones that might make Nokia tremble in their boots. We've just seen pics of four new models, nicknamed the Flash, Rush 2, Calgary and Inferno.
The Calgary boasts a pull out QWERTY keyboard and is rumoured to run off Android. It looks quite similar to the Xperia, but I'm guessing the interface will be very different.. hopefully we'll see it properly at CES!
[via Stuff]