Revolving hub is simplicity personified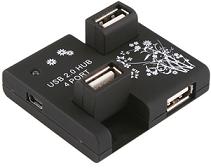 Sometimes it's not about the prettiest, funkiest, or most highly specced gadgets. Sometimes it's all about simplicity and convenience. And that's exactly what the 4-port Revolving Hub is all about. You probably don't even realise it, but you will probably have way more use out of this thing than you think. For example, you could charge your MP3 player, while perusing through your Christmas party pics on your memory card adapter, while powering your mutilated head USB heating gloves, as you keep cosy and snug in your USB heating blanket – the possibilities are endless.
It works like this – two of the sockets remain flat, and the other two are a little more flexible than that and rotate up to 90-degrees for easy plug 'n' play usage.
Available in black or white here for $12 [via Engadget]
More USB stuff here