Guess who's more concerned about her iPhone than the red carpet?
You're on the red carpet, you're looking fab (is that boob I see?), uber fans are screaming your name, the paparazzi are having a field day with your glam new look, and what do you do? Check your messages on your iPhone of course – hello?
So, who is the gorgeous girl iPhoning it on the red carpet? I can't tell you her name just yet. What I can tell you is she likes to sing in the genre of country and folk, she's 25 and if you're an American Idol zealot, you'll know her as the winner of series four. Apparently, she's the second most successful product of American Idol, after Kelly Clarkson (thank you Wikipedia).
Find out her identity after the jump…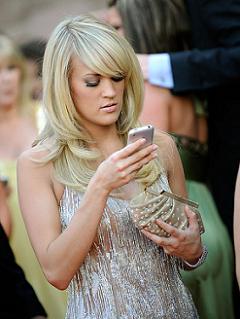 It's the stunning veteran of country and vocally blessed Carrie Underwood. She's clearly got good taste when it comes to phone candy which makes me like even more now. And what's even better she's more concerned with the innards of her inbox than feigning class and sophistication on the red carpet – you go girl! It's hard to tell whether it's the iPhone 3G, but as a celebrity with as much status as the country chick, I'd like to think it is.
More like this right here