The Speakal iPig: Super sound and super cute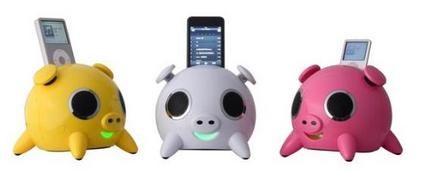 Often when you get a cute colourful speaker you're looking at a measly 6 watt output with no audio quality and rubbish sound. I think Speakal may be the first to corner the quality-meets-cute audio market, with the launch of their iPig. Available in three colours, this little fellow provides you with 5 speakers and a 4 inch subwoofer, as well as 25 watts. As you can see, it also works as an iPod dock, and has a bass reflex system that pumps out 360 degrees of sound. It will connect to most consoles and audio devices, and it's lightweight enough to move from room to room.
Let's not forget the cute factor though! Change the volume by tapping on this little piggy's ears and the smiley mouth glows when you turn the speaker on. When you send commands from the included remote he'll blink as well. It's a great purchase for someone who want quality sound but doesn't want to opt for a bland looking device.
$139.99 from Speakal
See here for more audio