Hi-Tec say bye bye to water with ion-mask technology
This is a very strange concept to explain. On one hand it's incredibly simple, but on the other hand you have to see it to believe it. I've been lucky enough to experience it firsthand with a morning at London Aquarium testing manta-rays patience by dunking things in their pool. And what was I dunking? A mixture of tissue paper and cloth that had been coated with a unique treatment.
Hi-Tec have developed something called ion-mask technology which uses nanotechnology to enhance the surface of an object till it's completely water repellent,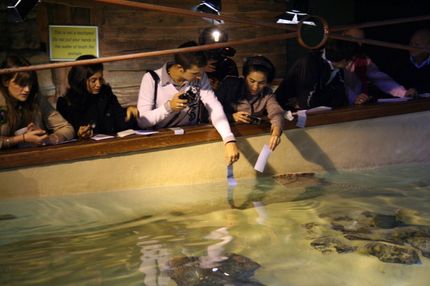 Most things can be treated, from leather, fabric, metals and ceramics, even paper! I was dipping treated tissue paper into the water and it barely got wet! Water collected in bubbles on the sheet and rolled off when I lifted it up. When I compared that to untreated tissue, it instantly became a soggy mess that would have the Bounty ladies in tears.
The special plasma process (whereby articles are placed within a container) chemically binds water repellent molecules to the fibres rather than coating the item, so it can't be washed off. The product is then rendered hydrophobic, and it's more environmentally friendly than traditional techniques. The ramifications are endless, with this technology having the potential to do a number of things. Tents that don't get wet? Super fast swimming costumes that are light and don't need drying…
Hi-Tec have naturally used this to create a product that fits in with their ethos. Soon you'll be able to get the V-Lite Altitude Ultra WPi walking boot, which will be lightweight and completely waterproof, so no more soggy heavy feet! They're planning on launching shoes and sandals as well, with info to be disclosed nearer the time.
I know you might still be a bit woozy on the details, so watch this space for a hands on video demonstrating this!
Check it out at Wet is Dry
See here for more Science news