Shiny at IFA 2008: Philips 9800 series keeps your blacks black, thanks to LED Lux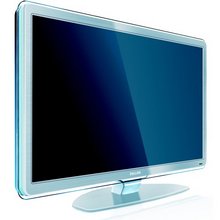 If you're after blacks blacker than black, and you know your contrast ratio from your elbow, the new Philips 9800 series is right up your street. Tagged 'pure performance' it uses all Philips technology to get the best picture – their HD engine, Pixel Perfect technology and the like.
The new stuff comes with the LED Lux though. Rather than the 16 lamps that other LCD TVs use as backlighting, this range has 128 difference segments arranged in a grid, making a total of 1152 LEDs. Each segment can be dimmed individually, which means if one area of the picture needs backlighting, that doesn't automatically get replicated across the picture – your blacks stay black. They quote a dynamic contrast ratio of 2,000,000:1.
Cosmetically speaking, they've dumped the black frame for a brushed aluminium version.
Technology like this doesn't come cheap though. It'll be available initially in a 42″ model, which will set you back 3,000 euros.
For more IFA coverage click here.