Han Solo Carbonite Ice Tray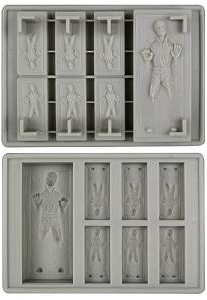 Recreate one of the most iconic moments in cinema in your freezer.
These moulded ice trays are perfect for Star Wars fans. Sadly moulds for JarJar
ice cubes that you can take great pleasure in smashing are unavailable.
It's mid-November so I think we can finally start talking about Christmas without attracting a lynch-mob. So what are you going to get everyone this year? Here's our top ten geeky Christmas gift suggestions for the geeky people in your life.