Audiobot Speaker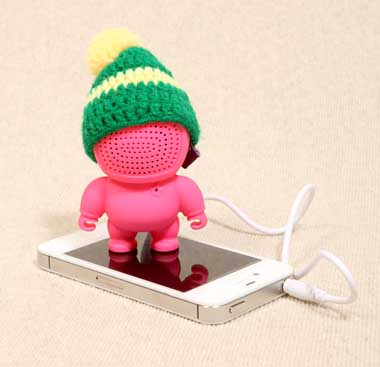 This speaker from Urban Outfitters ticks all of the Valentine's Day stereotype
gift boxes, it's cute, it's pink and it looks like a little creature.

The great thing is it's useful too, hook it up to an MP3 player or smartphone and
although the sound quality obviously isn't brilliant, it's totally good enough for
such a tiny, portable gadget.

The little guy also has a rechargeable lithium battery inside of him, so just plug
him into a laptop or computer via USB to fill him back up with juice.

From Urban Outfitters for £10.
A pink, fluffy phone case with a diamante heart on it won't impress us at all come the 14th of February, but throw some of these cool gadgets and tech accessories our way and we'll be all yours. Well for 24 hours at least.
Don't like the look of our list this year? Check our best ideas from 2012 here: 10 Quirky Valentine's Day gifts for geeky girls