High risk, high altitude peeping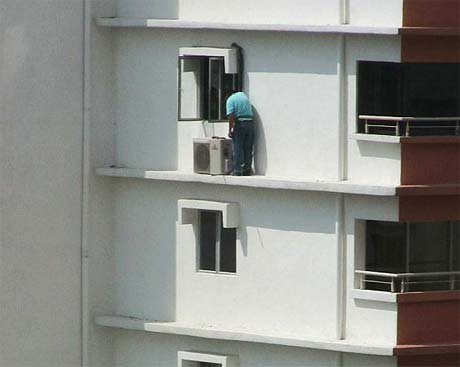 Like Owling in being completely pointless, but different in that you're much more likely to be hit by a restraining order – Peeping is the new internet craze.
Well one of them anyway. Planking was replaced by Owling which, apparently, has been replaced by Peeping.
Peeping also involves striking a silly pose for the camera before posting the pictures online, but it has a darker overtone of voyeurism, cause you have to look like you're peeping at stuff.- you know.
There's a Facebook Group about this.
In my humble opinion, the best peeping photos are those where you can barely see the peeper, also the ones where the peeping is more ridiculous than out-and-out scary-stalker. But do look through the pictures below and tell us what you think…
Related: Poll: Have you "Owled"? Will you? The New Planking sweeps Daily Mail, England Cricket team