What iPhone 4 really needs: a stand. We've found a cute one called MoviePeg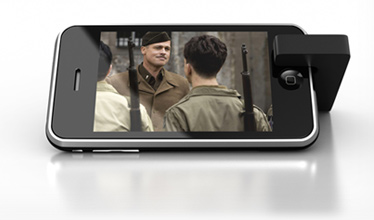 If there's one iPhone accessory you might want to consider for your iPhone 4, it's a stand. Even if you're not a case person, a stand will be pretty useful for the 4 because of the emphasis on this gadget as a video device.
Facetime – the video chat application headlined as The Big Thing – by Steve Jobs is either going to require you to hold it about steadily about 12 inches away from your face (arm ache!) or to find something to prop it up with. Something to prop it up with, like say, a stand.
And just such a stand has just popped into our horizons, it's called MoviePeg.
I can see myself losing this. But hey, at £4.99 it's simple, cheap and it's not going to break.
MoviePeg is available to buy online at movie-peg.com for £4.99+p+p. It is also avaible on Amazon.co.uk and is stocked in Liberty, London and Colette, Paris.