The dark side of FourSquare #1: Mayor Rage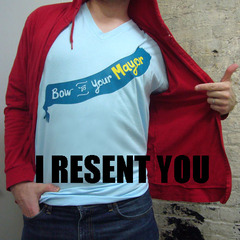 Since Foursquare is still in its early days everyone is loved-up with the soical network, its smart use of location and its dinky badges.
Thing is though, as more people log on and check in, competition for mayorships gets fiercer and the fall-out can be dark.
Sure we can all collect badges and take pride in our massive collection of Beer icons but what everyone wants is a mayorship. It may only be of your local newsagents. It may be that only other patrons of that newsagents are 60-somethings who probably don't know what iPhones are, but you're still Mayor.
In the early days anyone could be Mayor of anything. These current times, you have to show real commitment to become Mayor of somewhere decent and some little upstart can knock you off at any time. That's when displaced Mayor Rage kicks in. Hell you don't even need to be displaced to feel animosity to the Mayor of your favourite pub. Why should he win all the time. What about the little guy?
My favourite Friendfeeder Louis Gray illustrated Mayor Rage in a post this week:

As one commenter points out – people get run over all the time in supermarket
A little friendly rivalry is one thing, but I can see Foursquare rage spilling out. We all know people get angry on the internet (youtube comments, anyone) and we all know geeks can get really stroppy when upset and well, it's just asking for trouble in my opinion. So yeah, mayor of my favourite pub, watch your back.
Related: Does Foursquare make you sad?